News this week 08 Feb 2019
Intro:
Hi I'm Matthew Levy from MattChatt.co.za. I'm here to tell you about the things that peeked my interest over the last week or so. But first let me tell you about my world. I live very much in the Office 365, Azure AD, Enterprise Mobility and Security space, as well as Exchange server and Exchange Online spaces. So the things I'm going to highlight in this post are from those areas in Microsoft. See the accompanying video below and be sure to subscribe to my YouTube Channel
EMS Space:
28/01
Alex Simons announced the public preview of email one-time passcodes (OTP) for B2B sharing with anyone with an email account.
29/01
Alex li introduced the new Microsoft 365 security center and Microsoft 365 compliance center

–

splitting out the security and compliance centers into 2 specialist workspaces for the respective roles (SecOps and Compliance/Privacy/Risk management).

Rolling out to Microsoft 365 from end of January. Completed by end of March

30/01
Microsoft Intune introduced MDM Security Baselines – A group of Microsoft-recommended security configuration settings. Frequently updated based on feedback from Microsoft Security teams, partners etc. Provide intelligent recommendations based on your IT infrastructure.

In Public Preview

01/02
Bill Karagounis on Linkedin posted about updates to the Microsoft Managed Desktop (MMD) website, which includes a free e-book explaining what MMD is.

MMD was announced at Ignite last September and is currently available in UK, US, Canada, Australia and NZ.

01/02
Intune support team gave a heads up that they are improving the workflow to enrol Corporate iOS devices with User affinity when using Setup Assistant for authentication.

It's not rolling out just yet, but it's coming soon.

07/02
Intune for Education released the Remote Autopilot Reset feature. Allows a school IT Admin to reset devices for new students without unenrolling the device from MDM and the network. You can reset single device, or all devices in a specific group such as a classroom.
Exchange Space
31/01
Ross Smith IV on twitter announced that Outlook Mobile will notify enterprise users when composing or replying to a message whether external recipients are present in the form of a MailTip
05/02
You had me at EHLO announced the preview of the Microsoft Hybrid Agent for Exchange server. Removes some of the challenges with establishing a Hybrid Exchange, such as external DNS entries, Certificates and publishing through firewalls. Now called a "Modern Hybrid" and only available on new hybrid configurations. Publishes Exchange on-premises to Exchange online by registering a custom URL for only your tenant and used by the Organization Relationship and the MRS. The URL is only accessible from Exchange Online for Free/Busy and Mailbox migrations. SMTP doesn't traverse the agent so you still need public certs for mail flow.Bonus announcement:

With Exchange 2010 SP3 will be supported on Windows Server 2012 R2 with UR 26
Tip of the week:
So you may be asking how I come to know about these announcements. Well my tip this week explains how I get fed some of these news items from the source. I use the old RSS subscriptions, more specifically from within my outlook client. So browse to the site that you want to "subscribe" to, usually these blog sites have an RSS/Subscribe button. Click on the button and let the XML view of the page load, then grab the URL from the address bar in your browser, it will look something like the one below:
https://techcommunity.microsoft.com/gxcuf89792/rss/board?board.id=Identity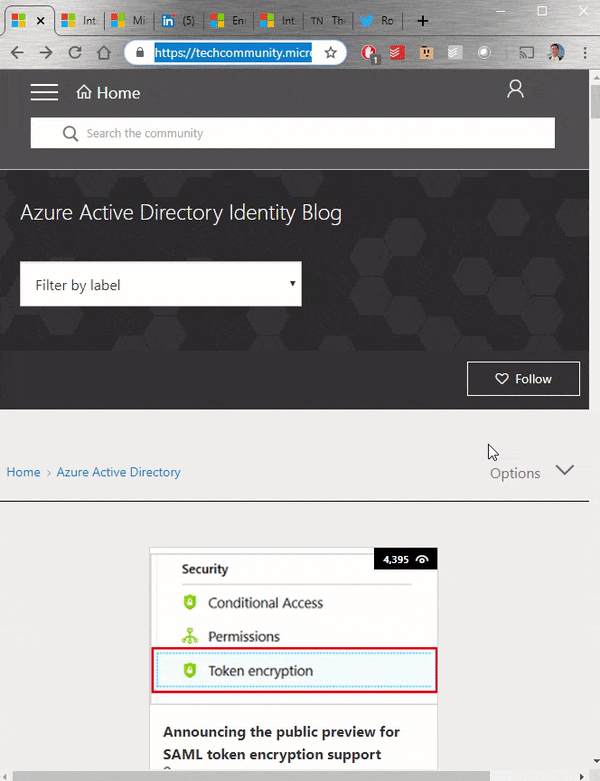 Then in Outlook simply add a new RSS feed by pasting in the URL you copied, and there you have it, a new RSS subscription in your Outlook client.